Hey guys~~ I finaly finsh my first knit "Beanie" today!!! I saw the pattern first in the book, it looks really hard but it's so easy. It's like a whole new world. Iam really happy about it!!!
Something learning new things, its aways fun and also challenge.
I use
Peace Fleece Worsted
yarn color:
Siberian Midnight
I get it from "
Kpixie
"
I used this beanie Pattern from "
Heats Gloves Scarves
" by Louisa Harding
Most time I order at " Kpixie" It's great online yarn store. And great service and fast shipping!!!
Anyway, This is Pic of finsh Beabie:
I had a store brought beanie from last year winter, so I compare two beanie...The size is really same! I awesome~~ I had a treouble kniting this beanie because this yarn is much thicker then they recomment for. So I made a less stitch and use small needle.
This is the pic when iam wearing it: Iam really shy about it. It's not a great pic of myself. I was taking pic a midnight 3am so... My face is mass and glasses.
Also Sat, I got my new yarn from "kpixie" Oh....goodie!!!!I ordered my yarn Thursday, and recived at sat!! So fast shipping I tell ya!!!!! Iam really wanna tell youguys.. Iam so addicted to buying too much yarns. Iam spand almost $50 doller and spending too much money!!!! I cannot get out my whole yarn world!!......... Lost month i brought tolal $300 of yarns from yarn shop...TOOOOOO MUCH!!!! Please Help me!!!!! My room getting bags bag of yarn everywhere!! GOSH!!!!
This yarn i got this Sat:
This is it great pic...Dreaming about getting more yarn everyday~~~Hehe~~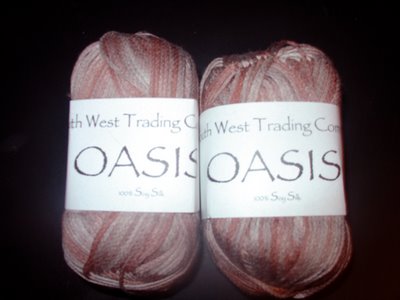 This is from South West Trading Company "OASIS" Color: Choolate
Great yardage: 2500yd..WOW
It's great soft yarn made from 100% Soy Silk. I dont know what is soy silk but it's not made from animal..I guess plant...
I got this yarn because i wanna knit some spring scarf for my mom!!!!
She brought a brown jacket so this is great color match for her brown jacket.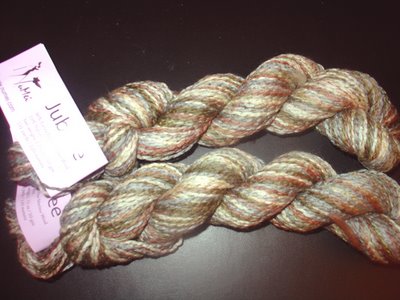 I got this yarn from NUMEI yarn.
Last week i found some cheapist online yarn store call "NUMEI"
All the yarn is less then $8doller. WOW it's great price. Most of yarn is novlty yarn I got this yarn for $3.50.
This is yarn is call "Jubilee" Skin has a 131 yard. and color is "Spanish Moss"
Check this Web Site Out!!!! Everyone really lik it!!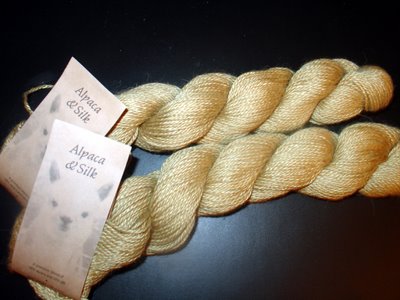 This yarn from "Blue Sky Alpacas" Alpaca & Silk.
It has 146yard and color in "ginger"
Its really soft yarn 50% alpaca and 50% silk.
I was planing to knitting "branch out"Leaf Scarf by Susan Pierce Lawrence. Pattarn from "Knitty"
I guess youguys know this leaf scarf by now!!!! It's so popular right now, Lot of knitter kniting it.
Up date my Leaf scarf next time...See Ya~~~Bye!!!